Complete Guide: Grand Cayman's Culinary Scene & Best Restaurants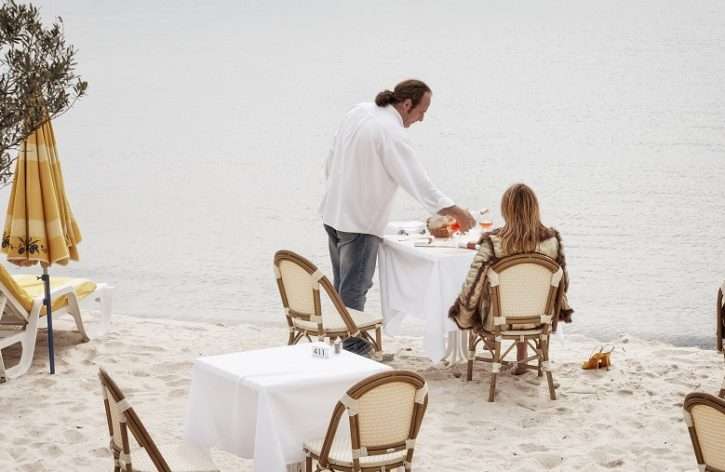 We calculated once that if you ate at one new restaurant each week in Grand Cayman, it would take more than three years to try them all. Suffice it to say, there are many options, depending on what you are looking for. Here, let us help.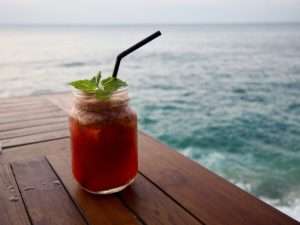 A casual meal with a great view of the sunset on the waterfront is the perfect way to commence your vacation once you've arrived at your hotel and dropped off your luggage, or for a relaxing afternoon in the sun in between your planned activities.
Best Restaurants Grand Cayman
Rackam's Waterfront Bar and Grill
Named after Jack Rackam in honor of Cayman's pirate history, Rackam's Waterfront Bar and Grill is a favorite among locals of all trades. Located in George Town on the waterfront, their menu includes all your bar food favorites and a few extra island specialties, and the tiki deck has one of the best views of the sunset. With friendly staff and regular visitors, Rackam's is a great place to kick back and get into island vacation mode or spend a lazy afternoon snacking and having cocktails. When you need a cool off, try jumping off the deck's railing into the sea – we make the regulars do it on their birthdays! Enjoy seeing the tarpon during their daily feeding at 7:30 pm as well.
Macabuca
Located on the water in quiet West Bay, Macabuca is tiki-style bar and restaurant, and one of the few places you can find live music on Friday and Saturday nights. During the day, there is a ladder entrance into some fantastic snorkeling just off the shoreline. Didn't bring your own snorkel gear? Never fear, Sun Diver's dive shop is attached to Macabuca so you may rent equipment on site. Make sure to check out Macabuca on Monday night for their all-you-can-eat Cayman style BBQ for only CI$17!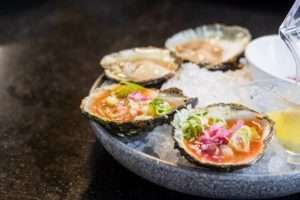 Specifically seafood
If you are visiting from somewhere landlocked, you will want to get your fill of seafood while you are on the island. Here are a couple of suggestions that are explicitly known for their seafood.
Guy Harvey's Bar and Restaurant – Bar Crudo
With inside and outside seating, Bar Crudo is a stone's throw from the water. It is one of the only places you can find lionfish on the menu, which is a delectable white, flaky fish that is invasive in the Caribbean, so we must eat 'em to beat 'em! Enjoy oysters, calamari, lobster, and locally caught fish and a spectacular happy hour.
Cracked Conch
Conch is a staple in Cayman, and no one prepares it better than Cracked Conch. From flavorful chowders, tangy ceviche, and traditional cracked conch, you'll be sure to find your favorite way to eat this local delicacy. Beyond their conch dishes, Cracked Conch is known for its other dishes with a Caribbean twist, romantic, white-table atmosphere, and marvelous ocean view.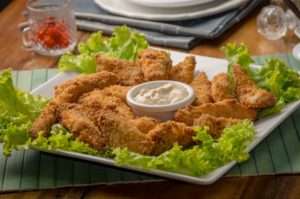 Caribbean/local food
Part of exploring a new place is experiencing local cuisine. A meat smoker made from a metal drum or a quaint shack with brightly colored tables and umbrellas are a sure sign you've found yourself a place to get some tasty local grub. As the locals would say, "Unnuh be sure to try some fry fish and fritters, ya hear!"
Heritage Kitchen
A charming little shack on the water's edge painted in bright blue and yellow, Heritage Kitchen is located on Boggy Sand Road in West Bay. Try the Cayman style grouper or coconut mahi mahi. Open from noon til 6 or later every day but Monday.
Grape Tree Cafe
Located in the old capital of Cayman, Bodden Town, Grape Tree Cafe is a local favorite right on the beach. Delicious conch fritters and mouth-watering whole fried snapper are two favorites on their menu. Their portions are more than filling, and meals include local side dishes like cassava fries, Johnny cakes, fried plantains, and Caribbean style slaw. A must visit if you find yourself exploring towards the east side of the island.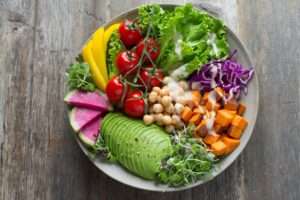 Vegetarian/Vegan-friendly
Travelling can be stressful if you have dietary restrictions or preferences. Here are a few choices of wholesome restaurants that offer organic, sustainable creations, as well as gluten and dairy-free options.
VIVO Cafe and Restaurant
Open for breakfast, lunch, and dinner, VIVO Cafe and Restaurant devote themselves to using only local, organic, and sustainable produce, and plant-based proteins, with the exception of local eggs and invasive, diver caught lionfish. Their full-service bar contains only local beers and organic and vegan wines and spirits, and an ocean view of Northwest Point in peaceful west bay to boot.
The Greenhouse
This casual cafe conveniently located in central George Town is an excellent choice for all-day breakfast, lunch, or snacks and canapes, as well as fresh cold-pressed juices. Greenhouse use local and organic ingredients for a farm to table experience and offer vegetarian and gluten-free options.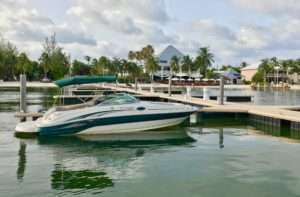 Across the pond
There is incredible satisfaction in arriving at a restaurant via boat. A lunch or dinner stop during a private charter with Crazy Crab is the perfect time to experience a few of Cayman's more remote, boat-accessible dining options.
George Town Yacht Club (GTYC)
Situated in the Barcadere Marina, GTYC has a menu and atmosphere that appeals to all. With inside and outside seating, along with a pool great for entertaining the kids or a cooling dip for adults, GTYC is a tranquil location for a delicious meal.
Kaibo
Nestled in Cayman Kai, Kaibo is a modern spin of Caribbean charm. Their menu is sure to please everyone, with dishes ranging from flatbread pizzas done in their outdoor brick oven to Caribbean style curry fish, fresh salads, and more. Every Tuesday night, Kaibo offers their Barefoot Beach BBQ of all-you-can-eat Caribbean style BBQ style food – a fabulous transition on a private boat charter between a daytime visit to Stingray City and an evening swim the Grand Cayman's Bioluminescent Bay.
Rum Point
Rum Point is an icon in Cayman, infused with the island's history. During the day, it can be reasonably busy with cruise ship passengers, but late afternoon is the best time for a visit. Jetskis and other water toys can be rented on-site, and the shallow swimming area is perfect for kids and new snorkelers. 
For more information about a private boat charter to Stingray City, Starfish Point, a few of the island's world-class snorkeling sites, the magical Bio Bay, and maybe some tubing or reef fishing too, visit Crazy Crab Cayman.
For more on restaurants in Cayman, visit Cayman Good Taste.