Things to do in Grand Cayman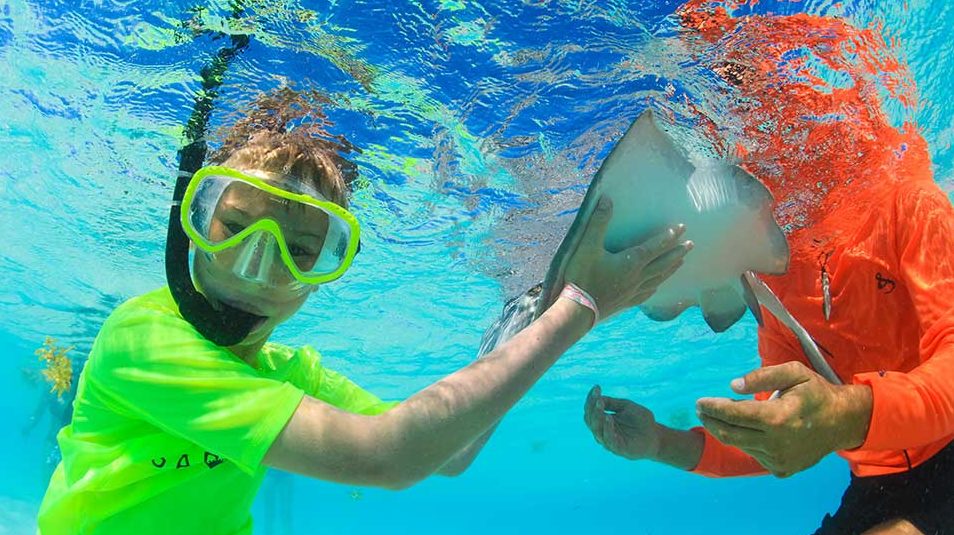 A Crazy Crab adventure is the top, top thing to do in Grand Cayman but here are a few other activities that you'll want to check out too.
Crazy Crab Adventure – The top thing to do in Grand Cayman is a Crazy Crab Adventure on your own private boat charter with personal crew. We'll tailor your charter just for you so you can come and go when you want and stay as long as you like. Professional and experienced guides will lead you on the amazing experiences like our Stingray City encounter and magical Bioluminescence Bay.  You'll snorkel vibrant coral reefs, swim among dazzling fish, feed magnificent stingrays and hold radiant starfish. All of us at Crazy Crab have one mission – to make sure you have a fantastic, memorable day.
Crystal Caves – A newly opened attraction in Grand Cayman, the privately owned Crystal Caves are located in Northside. The three caves and all the surrounding flora and fauna illicit much about the geological and anthropological history of Grand Cayman. When visiting, a guide will escort you through the two-hundred-year-old caves, explaining how they were formed predominantly by rain, and introduce you to historically significant plants and animals, like bats that were crucial to Caymanians' effort to settle and farm. Make sure to call ahead and secure your required reservation for this hour and a half long tour through Cayman's past!
Botanic Park – A superb way to experience the endemic plant life in Cayman, the Queen Elizabeth II Botanic Park showcases a woodland trail, a lake and surrounding wetlands area and five gardens, each spotlighting a different class of plant life. Keep your eyes open for many of Cayman's native bird species, butterflies and agoutis. The Botanic Park is also the home of the Cayman National Trust's Blue Iguana Recovery Program. This is the only place you are able to see Cayman's native blue iguana on the island, as the invasive green iguanas you will notice roaming around in no shortage drove the blue iguana almost to extinction in 2002, with less than 20 individuals left in the whole world!
Turtle Center – The green sea turtle has been a part of Cayman's culture and environment since the earliest settlers to our shores. Originally started as a farm to domesticate turtle for consumption, the Cayman Turtle Center has been transformed into an leisure, educational, research and conservation center for green turtles and other Cayman wildlife. Native animal exhibits and attractions feature turtles, saltwater crocodile, sharks, birds, and butterflies.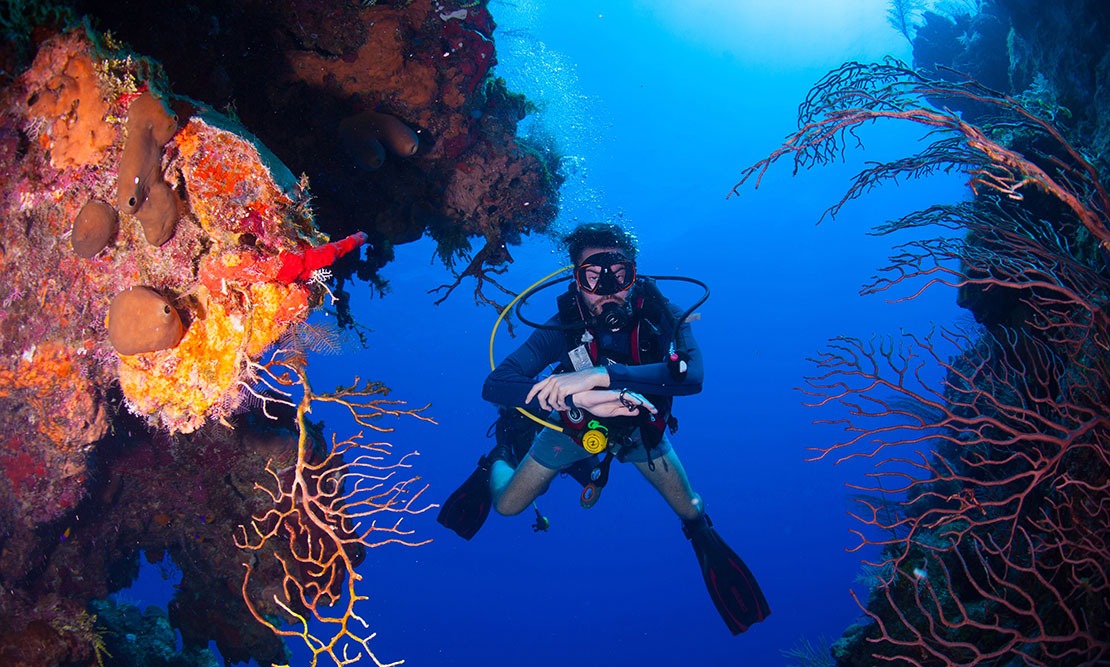 Scuba Diving – With 365 dive sites around Grand Cayman ranging from shallow shore dives teeming with invertebrate life, shallow boat dives interwoven with swim-throughs and buzzing with more than 500 species of fish. Multiple wreck dive options including the ex-U.S.S. Kittiwake and spectacular dives along the island's walls that plunge down into the abyss, the scuba diving in the Cayman Islands is unparalleled, with the best visibility in the Caribbean. Whether you are a certified diver, want to become certified or just want to try it for the day, make sure to check out Cayman's reefs, up close and personal!
Deep Sea Fishing – Because Grand Cayman is the peak of a mountain in an underwater mountain range in the Caribbean, you do not have to go very far offshore before the mountainsides plummet to depths sufficient enough to catch all kinds of succulent and sporty pelagic fish. Including snapper, grouper, mahi-mahi, wahoo, barracuda, black and yellowfin tuna, sailfish and even marlin!