Grand Cayman Restaurants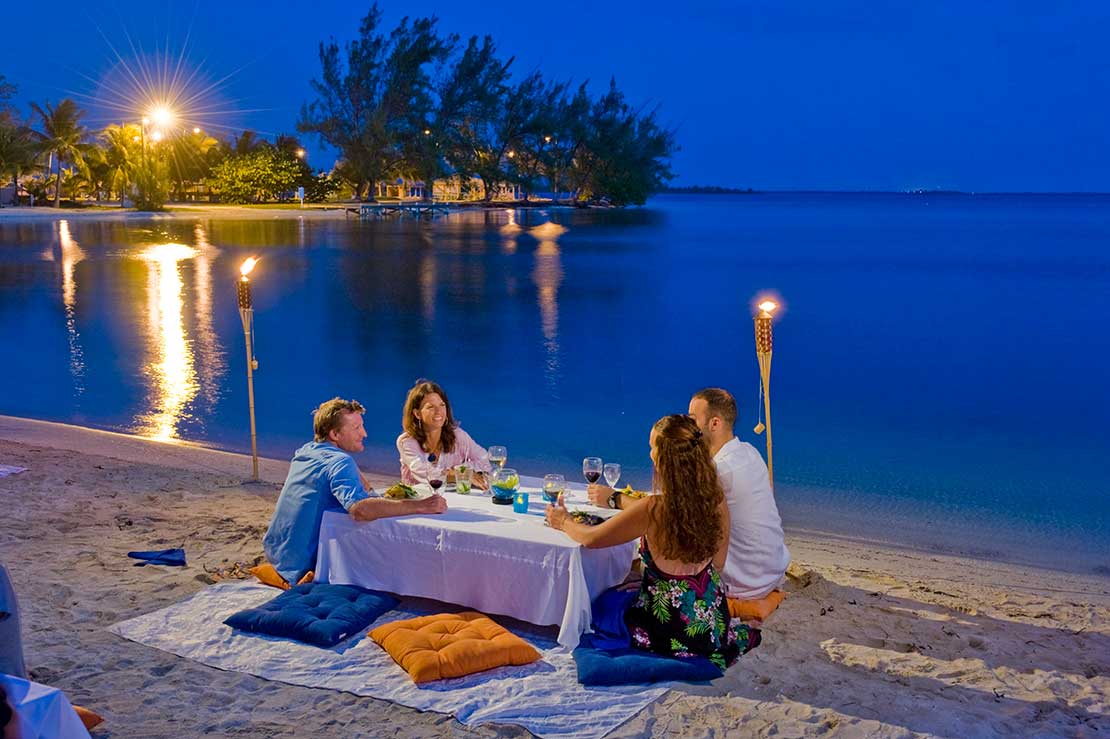 In the Culinary Capital of the Caribbean with over 200 restaurants, you'll delight in savoring the best of world-renowned international and local chefs. You'll find it difficult to choose from the variety of cuisines and styles, so here are a few of our favorites.
Morgan's – Situated seaside in the newly developed Cayman Islands Yacht Club overlooking Governor's Creek, Morgan's menu showcases many ocean-to-table dishes. Chefs receive fresh fish daily from restaurants own fisherman. Morgan's is casual with a pinch of European chic, a cozy and airy atmosphere with inside and outside seating options. Whether enjoying fresh local seafood, or perhaps a juicy meat dish or savory vegetarian option, you are sure to have a memorable experience dining at Morgan's.
Catch – Nestled in Morgan's Harbour overlooking the North Sound, Catch is best described as by Cayman Good Taste – casually elegant. The staff at Catch do their best to use fresh local ingredients whenever possible, from their talented mixologists using local fruit in your cocktails, to the chefs using local produce to complement your main dishes, and of course, only the freshest fish is used at Catch. Daily dinner specials at Catch vary based on what was biting that day. With plenty of other tasty vegetarian and meat dishes, everyone is sure to find something to suit their tastes at Catch.
Calypso Grill – Overlooking Morgan's Harbour near the fishing docks, chefs at Calypso Grill have a very short commute to ensure that only the freshest fish ends up on your plate! Choose to sit outside on the veranda to enjoy the evening breeze and the stars, or inside in the cozy island-style ambiance. Make sure to order their famous sticky toffee pudding for dessert! So well-known, there is even a street named after it in Cayman.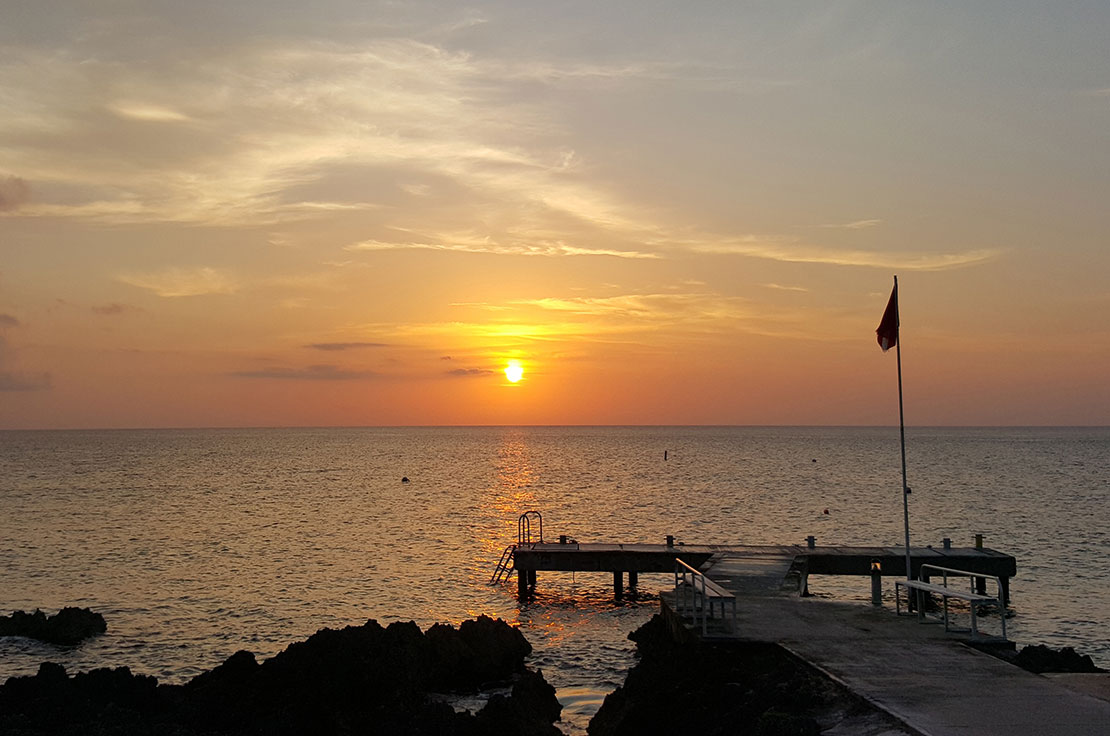 VIVO – Offering an eco-friendly menu with vegan, vegetarian, gluten-free and dairy-free options, VIVO Cafe really is an alternative restaurant gem in Cayman. VIVO specializes in a range of Lionfish dishes, making use of the invasive fish which requires constant culling to prevent the destruction of the native reef fish in Cayman. Overlooking the rocky ironshore and sea in West Bay, VIVO is the perfect place for a sunset drink or dinner.
Agua – Located in Camana Bay, Agua has a unique combination of international seafood dishes is present on Agua's menu, and they ensure everyone is done justice with their international staff. In-house they have representatives from twenty-four different countries, so each dish you order is prepared by the chef with the same origin as the dish! If seafood does not suit your taste, you may choose from the variety of other salads, pasta and other meat dishes they offer.
Kaibo – Kaibo offers guests two choices all in one convenient location: the casual, barefoot beach restaurant downstairs, or their excellent dining restaurant and Cayman's most extensive rum bar upstairs. Kaibo's Beach Restaurant is the favorite casual food stop on Crazy Crab adventures and offers simple seafood entrees and snacks, fresh salads, eclectic sandwiches, thin crust pizzas made in their outdoor brick oven and more. Consider joining Kaibo on a Tuesday night for their Barefoot Beach BBQ with music, dancing, beach games, and bottomless local BBQ. Kaibo is accessible by car or conveniently by taking the water ferry from Camana Bay.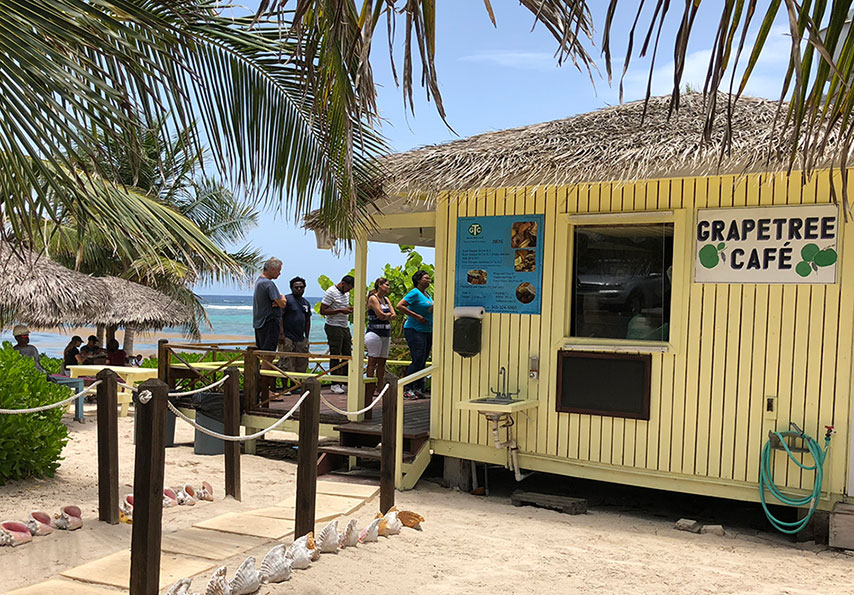 Grapetree Cafe – You won't discover much about this hidden gem in the tourist publications, but the locals know that Grapetree is the place to head to on the weekends for the best fried fish in Grand Cayman. Located on the coast in Bodden Town, you can grab your fish for taking away or relax and enjoy your fish and fritters sitting under a thatched covered table on the beach.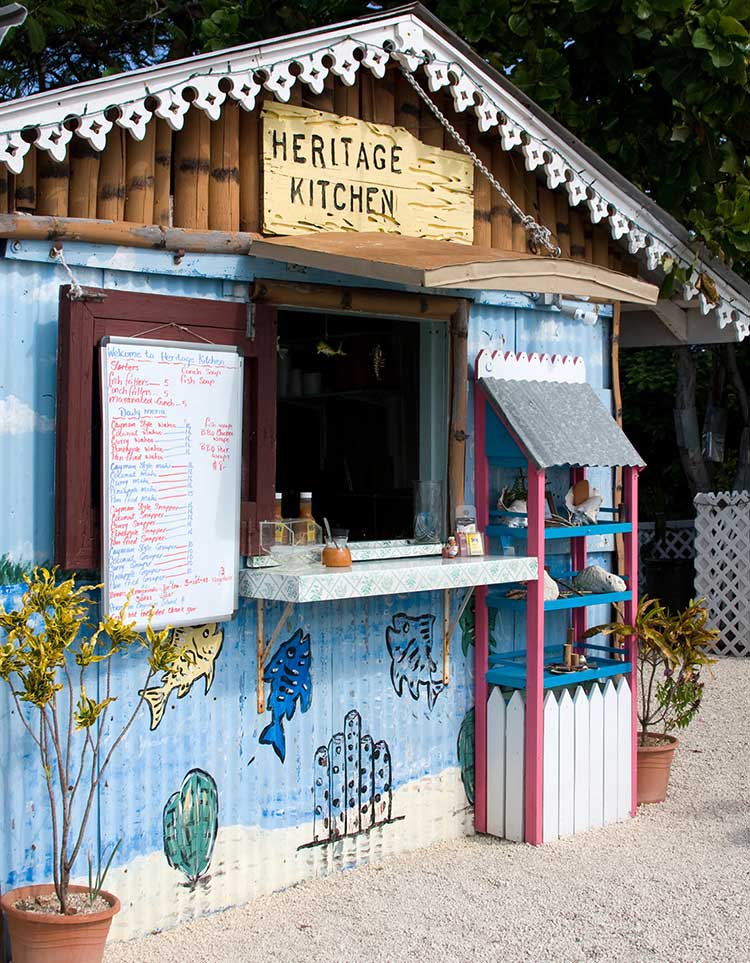 Heritage Kitchen – Named by Cayman Good Taste in Cayman's Best Local Eating, Heritage Kitchen gives an authentic taste of Caymanian heritage. Order one of many authentic local dishes such as Cayman style grouper at a sensible price, and enjoy it while overlooking the ocean. Located on Boggy Sand Road in West Bay.
If you are interested in the Caribbean Food and wants to visit the Grand Cayman Restaurants, check out our Seafood, Pizza & Mudslides Tour.