Top 10 amazing experiences in Grand Cayman with kids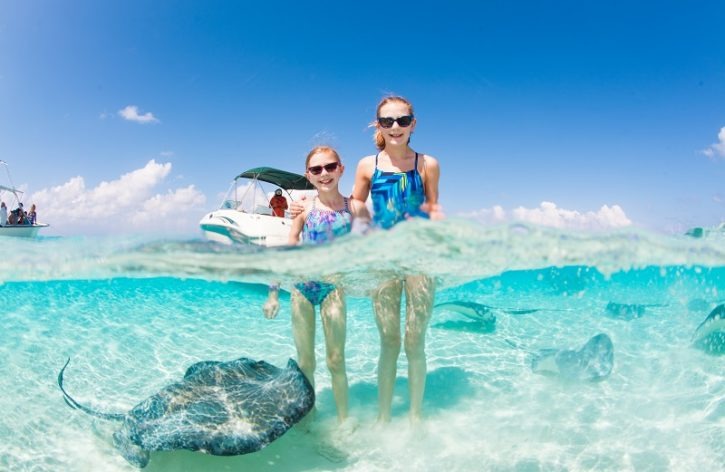 Grand Cayman offers a wide variety of fun activities for kids of all ages and all interests. Island life and ongoings certainly revolve around the sea, but the island itself deserves reconnaissance too. Check out these top ten experiences around all parts of the island we have found that kids love.
Grand Cayman Wildlife: For the animal lovers
"Awh, please, can we keep him?!" If you have heard this from your kids before, they are sure to love all the animal encounters that are available here in Grand Cayman.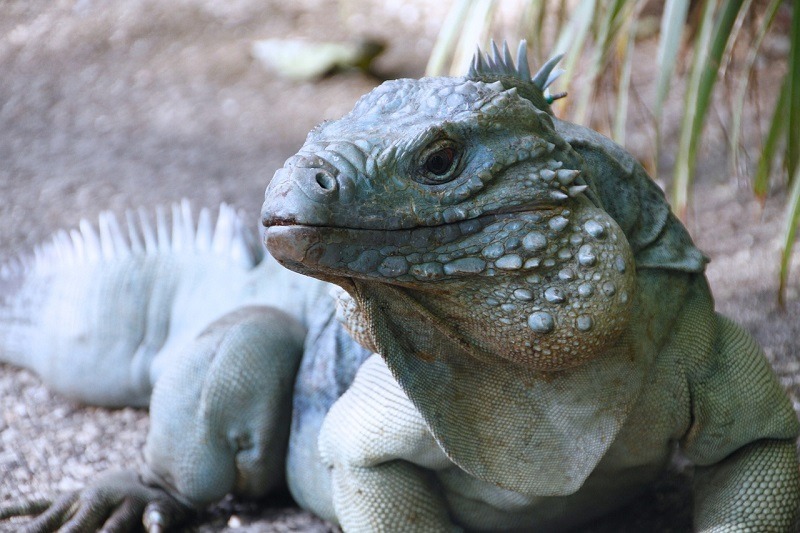 This captive breeding area for the Blue Iguana is the only place in the world where they can be seen, as they are endemic from Grand Cayman alone. Take a walk through the beautifully manicured nature walk paths to see native plants, illusive agoutis and of course, the Blue Iguana. Meandre to the lake catch the West Indian Whistling Ducks and keep your ears strained for the distinctive call of the Cayman Parrot. Be sure to ask for the kids' scavenger hunt at the front desk for a guide of all the highlights within the Park. For more information about the Blue Iguanas fight for their lives, ask about a guided tour.
Spotts Beach:
Swim with the sea turtles
About a 25-minute ride from world famous Seven Mile Beach lies a quaint little beach where the green and hawksbill turtles come in to feed. Rent or pack your own snorkel gear for a chance to see the beautiful, endangered animals in their natural habitat in shallow seagrass flats at Spotts Beach. This public beach is located just behind Spotts Cemetery and has porta-potties, wooden shade pavilions and parking on site. Be sure to consult the signs for more information about the turtles and heed the warnings about not touching them, as we don't want to make them sick!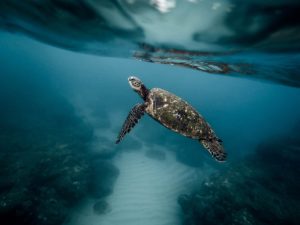 Starfish Point: Starfish races!
Whether going by car and planning an all-day beach day or visiting via a charter boat, the shallow, tranquil waters of Starfish Point are paramount of relaxation. The smooth sandy beach is great for building sand castles or soaking up the sun, and of course, you'll see Red Cushioned Starfish. Able to reach up to two feet across and bright red or orange, you cannot miss the starfish dotted about. Handle them with care, as they are a living animal, and must not be removed from the water. For a little friendly competition to mix up your day, find at least two starfish, gently turn them over and place them back down on the sand. These critters do not move very fast but after a few minutes, you will see a funky trick the starfish can do!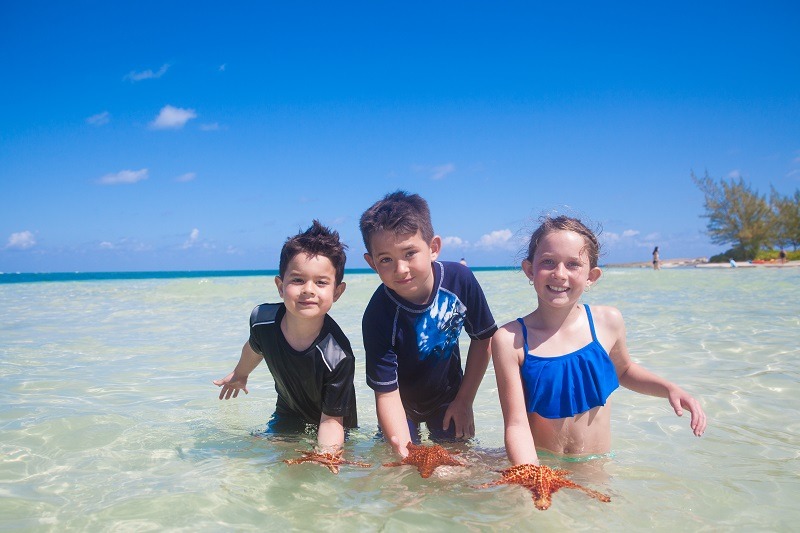 Snuggle wild Southern Stingrays at Stingray City
For all animal and ocean lovers, Grand Cayman's most popular attraction is a must see! Stingrays have been congregating around Stingray City Sandbar for more than 50 years. Before they were hand fed by visitors, the stringrays scavenged on fish carrion leftover by the fisherman; this shallow area provided the perfect space for a fish cleaning station. Now the stingrays associate the sound of boats with a free meal. In addition to feeding the rays, visitors can get a good luck kiss and even try holding the amazingly docile rays. Stingray City is not reachable by car, so make sure to reserve your spot on one of the many boats that go to visit the stingrays.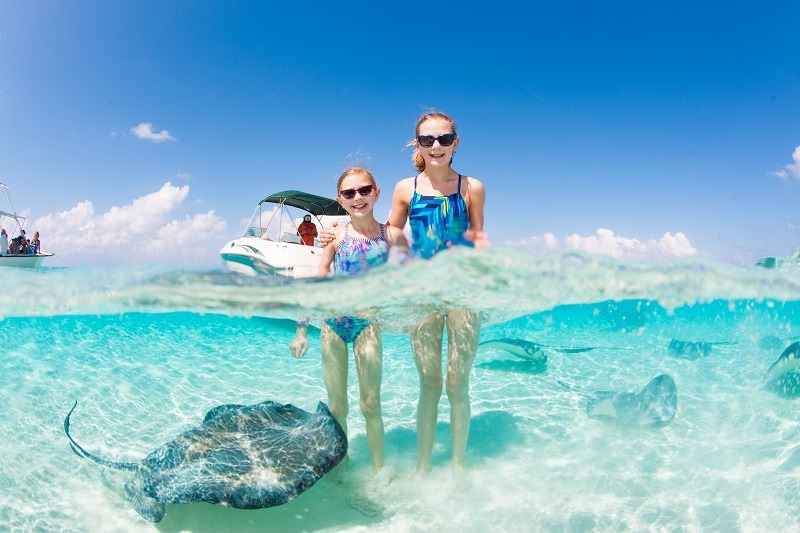 History buffs or artists
Especially if your kids are taking time off school for your vacation, visiting the Cayman Islands National Museum or the National Gallery of the Cayman Islands is a fun and interesting way of learning about what it means to be Caymanian. Perusing exhibits at your own pace for a short hour will give incite on the brief history of this ocean culture and stimulate imaginations around how pirates utilized the resources here, how people survived swaths of mosquitos and what role this played in the creation of Stingray City, how the first people brought income to the island by braiding palm fronds and how the locals have survived the mighty hurricanes over the years.
"Welcome aboard, explorers!" ~ Mr. Ray, Finding Nemo
Scenic drive around East End
The eastern side of Grand Cayman has the biggest land mass on the map, however, it is less densely populated. Half a day's drive around this side allows for an intimate exploration of some of Grand Cayman's off-the-beaten-path treasures and historical commemoratives. All heritage sites are marked with brown signs by the main road, and there are a bunch! Every ten or fifteen minutes there is a possible destination to stop and explore which include numerous beaches, the oldest building on the island: St. Pedro's Castle, pirate caves, the Blow Holes, the historic walk of Wreck of the Ten Sail,  Davinoff's outdoor sculpture display and more. Consider stopping for lunch for some local Caribbean fried fish at Grapetree Cafe in Bodden Town, try the Cayman Tree Chicken at Tukka, Cayman's iconic Australian restaurant or stop for the world's best mudslide at Kaibo all the way at the end of the road. This fun-filled day of delving into the nooks and crannies of Cayman is sure to be among the highlights of your visit.
The naturally forming Crystal Caves are a newly opened attraction in Cayman and are well worth a visit. The intricate patterns of the stalactites and stalagmites add a new dimension to a guests perception of Cayman's terrain. Plus they allow for some fun finding funny shapes within them, which your guide will be happy to spend some time doing with your kids and showing them some of his/her favorite look-alikes. Look for pools of cool fresh water that were once coveted by pirates who stopped to stock up for the next legs of their journeys, and if you get dripped on its good luck!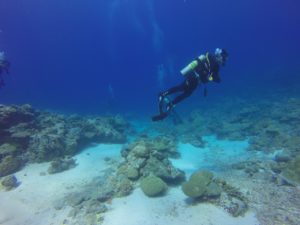 Discover Scuba Diving
The snorkeling in Cayman is world-class because of the clarity of our waters, but do you ever wish you could get down off the surface and be up close and personal with the reefs? Discover scuba diving is an excellent opportunity for you and your kids (10 years and up) to learn and try something new. After a short 30 minute orientation, an instructor will take you down from the surface to have a closer look at the colorful fish, lobsters, and eels, but also the macro life, shrimps, crabs, and nudibranchs you may not have even known were there. Your instructor will be in charge of all your gear and will always be an arm length away. After approximately 30 minutes your instructor will return you to the surface and have a debriefing session about things you saw during your visit to what is truly a whole other world. You may find diving to be like potato chips… You can't have just one!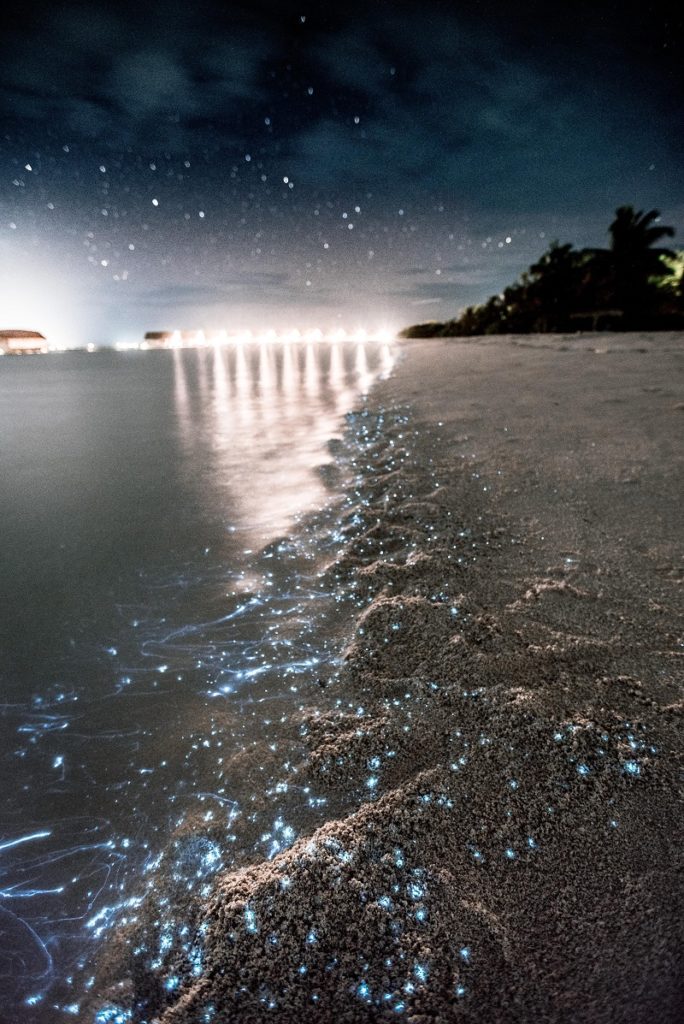 Imagine being able to shape your own galaxy of twinkling stars with a simple movement of your fingers. Grand Cayman's Bioluminescent Bay is a breath-takingly unbelievable spectacle that has been described like this. The glowing can only be seen at night in the calm, protected, warm waters of the Bio Bay. There are only a few of these bays in the whole of the Caribbean, so this excursion is truly a special treat sure to beguile and stimulate every young mind in your family.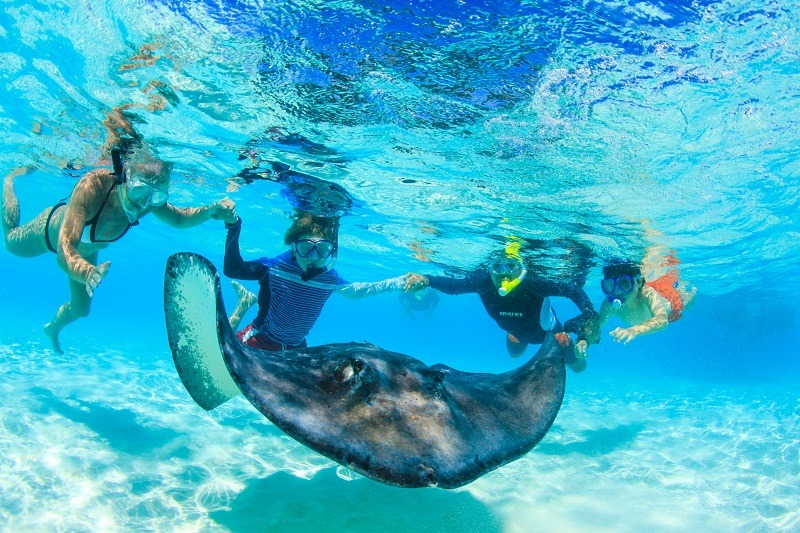 Feed the Tarpon
Tarpons are a medium sized game fish – not good for eating but put up a good fight. The tarpons in Cayman have become accustomed to enjoying a good meal if they hang around the right places. Enjoy a meal at Lobster Pot, Rackams or other tiki deck restaurants in George Town, and listen for the feeding bell after sunset. Ask your server where to go to get the kids in on throwing scraps to the big fish too!
Bring your kids out with
Crazy Crab!
Undoubtedly the best way to experience Stingray City, Starfish Point, world-class snorkeling, the Bioluminescent Bay and any other variety of the sea-based wonders in Cayman is a private boat charter. Hiring a boat with two crew that dedicate all of their attention to your needs for a day on the water, and organize your adventure around the rushes at each stop, makes all the difference in making your day unforgettable.
At Crazy Crab, our crew members are not only qualified boat operators with knowledge about the animals and environment, they are also trained in CPR/first aid and have special experience in working with kids. Whether trained scuba instructors, kids camp organizers or counselors, or parents themselves each crew member has their own way of making kids' experiences with us engaging and FUN while making all activities accessible to everybody in your family, no matter how big or small! Each of our three boat choices is equipped with a bathroom on board, shade, water and juice boxes, towels and kid-sized safety gear and snorkeling equipment.
When the kids are happy, parents are happy. When parents are happy, our crew are happy. So, our staff knows that for everybody to be happy, we have to start with your kids. We look forward to seeing you and your kids on the boat for a fun day full of adventure for everyone. Start planning today!